About Huntington Woods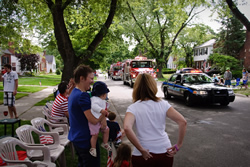 Huntington Woods is an enclave of elegant homes close to the vibrant bustle of the Woodward corridor. Architectural gems by Kahn, Saarinen and Yamasaki grace tree-lined streets prized of their safety and peaceful vibrations. The bracing experience of sunrise on the first tee of Rackham Golf Course is matched only by a sunset dip in the community pool.
A "green" community long before it was fashionable, the Woods has been a state and national model for recycling since the 1970's. Selected by Money Magazine as one of the country's "hottest hoods" Huntington Woods homes have historically been an excellent investment and pride of ownership is very evident in upkeep and décor.
The Woods treasures its history but knows its future depends on continuing to provide quality amenities and education to their residents.
Huntington Woods, the big neighborhood with small town feel, where yesterday compliments today.